You may not think of ferns for the go to gift but they can be perfect for many.  I have given several to friends and family over the years. They end up being a discussion piece for years to come and unlike a gift card or some other lame gift they will make the receiver remember the giver for years to come.
Nephrolepis Biserrata: You ever walk up to someone's house and see those gigantic
 ferns growing along the perimeter? Odds are if they are the big ones they are Nephrolepis biserrata or Macho ferns. These things can have fronds up to 4 feet long and get to be crazy bushy. I wouldn't recommend giving a full grown Macho to someone as a gift (unless you want to put it in one of those giant boxes and give it as a gag) but with the right care a macho fern can grow from a small pot to humongous sizes within a short period of time.
Nephrolepis exaltata Bostoniensis: After my parents retired they got into ferns. They started with one hanging on the eve of the house, then one became two by the back door, then 2 became literally 15 ferns hanging from the house. Their choice of fern Nephrolepis exaltata Bostoniensis or Boston fern. These are the ferns that you think of when you think of hanging ferns. They do great inside and out and can add color and nature to a sterile space. One word of advice for Boston ferns please, please please, go with a quality hanging pit. Here (link here) is a great one on Amazon.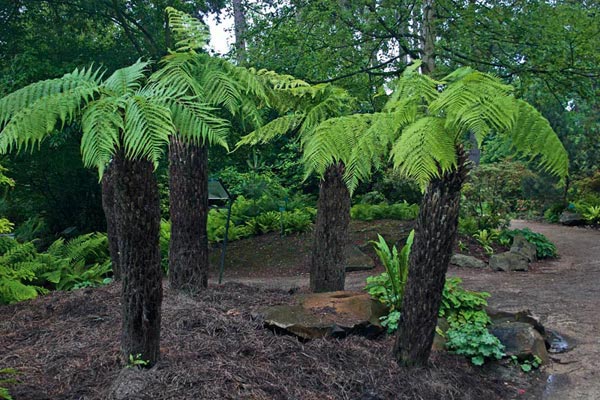 Dicksonia Antarctica: If you read our article on picking the right fern for your environment you probably saw that we love Dicksonia Antarctica, better known as tree ferns. They can grow to huge heights so they are best for outdoor planting and grow in colder climates (I mean antarctica is in the name).
Asplenium Scolopendrium: Harts tongue ferns are a great way to liven up a garden that has gone dormant for the winter. They look different from a lot of other ferns in that their fronds have a waxy look to them and are a lot more leaf like than other ferns. They also develop that cool curly leaf look that people like to take close up pictures of for some reason. Here is a great article on how to grow hart's tongue ferns.
Platycerium: have I mentioned I love staghorn ferns. We have a whole page dedicated to them here. They make great gifts they can be hung from planter or even cooler, they can be mounted on the wall. All you need to put them into is a little moss or dirt mixture and they will go to town.  Like all ferns they require very little maintenance.