So I came across a book from the 1800s about different fern species. Below is my attempt to take Genera Filicum, the genera of ferns and create a resource for people to identify the ferns they find.  When Edwin Bingham first wrote the work he captured a wide range of fern species and provide a detailed  description. I have attempted to take that description and also provide a picture for each fern species. This is by far not a comprehensive list but should assist users in identifying the the type of fern they are looking at. I will continue to add more species as time permits so the next time you come back the list should have grown.
Brainea
A large terrestrial fern; rhizome very stout and woody, becoming erect, the larger bundles of old stems arranged in a ring, caudex and stipe-bases immersed in long, linear-aciculate, castaneous, eventually black-costatepaleae; fronds densely clustered, short-stipitate, broadly lanceolate, attenuate to both ends, pinnate, pinnae subsessile, coriaceous, sterile ones linearlanceolate, denticulate, fertile pinnae linear, veins branching, veinlets anastomosing to form a coastal series of areolae with the outer side arcuate or angular; sporangia produced on the veinlets surrounding the areolae, and
more sparingly on those running toward the margin, eventually covering  the nether surface, exindusiate, annulus of about 16 cells, spores bilateral, reniform to globose, smooth.
Camptodium
A small terrestrial fern; rhizome stout, ascending to erect, its paleae
lanceolate, attenuate, entire, castaneous; stipes fascicled, as long as the
lamina or longer, ebeneous, paleate at base only, deciduously pubescent with articulate hairs; lamina deltoid, coarsely pinnatisect, brownish, thick, glabrous at least at maturity, veins free, sparingly branched; sori terminal on the veins, submarginal or in full development scattered, indusium usually reniform, sometimes round-reniform, annulus of about 13 cells, spores oblong, tuberculate.
Cionidium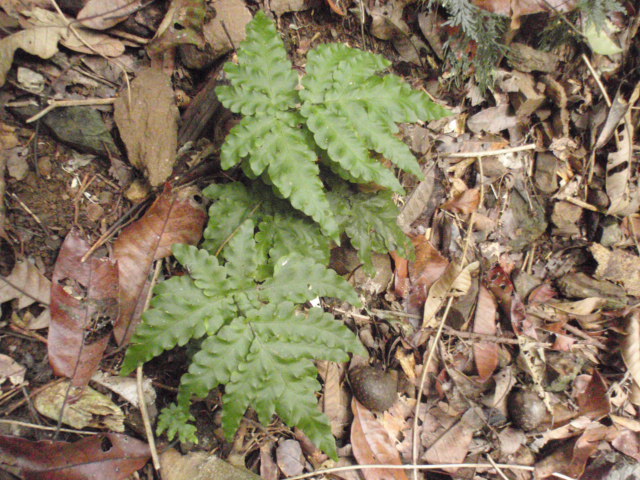 Like Tectaria except that each sorus is terminal on a pedicel-like vein prolonged beyond the margin, indusium semi-orbicular, connected in the lower part of the sides with a strictly local laminar outgrowth of the vein, the indusium and this lamina forming a cup-like structure; stipe and rachis ebeneous, lamina large, deltoid, bipinnate at base in full development, thin, naked except for finely velutinous upper side of axes.
Hemigramma
Terrestrial plants, small or of moderate size; rhizome ascending to erect, scaly; stipes fascicled, scaly with narrow, crinite-attenuate brown paleae which are entire in age, but bear a few lateral and basal branches when young, also pubescent when young with caducous articulate hairs; fronds dimorphic, the sterile on young plants rosette-forming, ovate-lanceolate, entire, subsessile or short-stipitate, on adult plants longer-stipitate and ranging from the juvenile form through lobed and pinnatifid to pinnate with few pinnae, usually deltoid in form, fuscous, completely glabrescent, venation Sagenioid; fertile fronds longer-stipitate, linear on young plants, varying to pinnate with forked basal pinnae on adult plants, free included veinlets usually wanting; sporangia borne along the veins without interruption (Gymnogrammoid), eventually also on the laminar surface (Acrostichoid), indusia wanting, annulus of about 14 cells, spores reticulate-spinulose by contraction of the epispore.
Tectaridium
Terrestrial ferns of moderate size; rhizome becoming erect, short and stout, paleate; stipes fascicled, blackish, bearing dark, linear-aciculate paleae and very short, dark, ctenitoid hairs; fronds dimorphic, the sterile lanceolate, entire, rounded or cordate at base, fuscous, opaque, glabrous or glabrescent, venation Sagenioid; fertile frond similar in outline, but the laminar tissue reduced to spots, usually paired, on the main veins, the effect being that the frond is bipinnate, each laminar fragment or pinnule just sufficing for the bearing of a sorus; sori round, indusium round, with a sinus which may or may not extend to the middle, dark, firm, persistent, annulus of 14 cells, spores oblong, with thick epispore, becoming sparingly echinulate.
Luerssenia
Terrestrial fern with erect, paleate rhizome; fronds simple, entire, lanceolate, subdimorphic, the fertile ones narrower, venation reticulate with free included veinlets; sori terminal on simple veinlets, one in each areola, in 4 to 6 longitudinal rows, indusium "elongate-hippocrepiform," entire, spores bilateral.
Pleuroderris
Terrestrial plants of moderate size; rhizome ascending to erect, stout,
paleate; stipes fascicled, paleate, especially toward the base, with narrow,
irregularly toothed or fibrillose scales, and with minute, deciduous articulate
hairs; lamina usually narrowed at base, variable, from linear, sinuate in the
upper part and pinnatifid downward, to pinnate in the lower part, the pinnae
close or remote, decurrent or adnate or rarely sessile, ovate to linear, and
the frond sometimes ovate, firm-herbaceous, rachis pubescent above, laminar surface naked, venation Sagenioid; sori irregularly scattered or mostly
near the margin, large, round or elongate, sometimes confluent, indusium
conforming in shape to the sorus, sometimes cleft or in more than one part,
the whole or each part attached to the vein by one side, broad and firm, the
free margin minutely ciliate, developed sporangia with annulus of 13-15
cells, spores oblong, tuberculate or irregularly spinulose, but most sporangia
more or less abortive, and very few spores seen.
Quercifilix
A small terrestrial fern; rhizome creeping or ascending, paleate with broad, dark paleae; stipes approximate, scaly at base with narrower, attenuate paleae, elsewhere densely pubescent with pale, articulate hairs; fronds dimorphic, the adult sterile lamina short-stalked, oblong or ovate, composed of a relatively large, broadly crenate, or lobed or incised main portion, and
usually a single pair of opposite basal pinnae, herbaceous, fuscous, ciliate and the surface rather deciduously pubescent with articulate hairs, venation laxly Sagenioid; fertile frond long-stalked, lamina so contracted that the segments are few and linear, sporangia everywhere along the veins, and eventually spreading somewhat onto the laminar surface, annulus of about 13 cells, spores oblong, coarsely reticulate-tuberculate by shrinking of the epispore.
Fadyenia
A small terrestrial fern; rhizome erect, short, paleate; stipes clustered,
short, paleate at base with light-brown, thin, linear-aciculate scales, else-
where, like young laminae, bearing minute, deciduous Ctenitoid hairs;
laminae subdimorphic, the sterile ones oblanceolate with round apex or
lanceolate with protracted radicant apex, decurrent at base, entire or shallowly lobed, herbaceous, glabrescent, veins laxly and rather irregularly anastomosing, the larger coastal areolae commonly with single free included veinlets; fertile fronds narrower and longer, non-radicant; sori mostly on the included veinlets, conspicuously large indusium round to oblong, fixed by a median line from the base to above the middle, the cordate base often unequal-sided, minutely pubescent, sporangia large, annulus of about 14 cells, spores bilateral, with thick epispore shrinking to make them spinulose.