Florida Ferns
If you ever wondered about the different kinds of ferns in Florida, I have compiled a complete file of Florida ferns. I grew up in North Florida and spent much of my youth wondering around the forests and shrub grass of the area. There are something like 400 kinds of ferns out there if you count all the different species and subspecies and anywhere from 10% to 25% (depending on what source you use) of them are native to Florida. Almost 100 year ago a guy named John Kunkel Small, write a book called Ferns of Florida, in it he listed around 90 ferns as native to the state.  Later in the 1970's Olga Lakela and Robert W. Long stole Small's title and wrote another Ferns in Florida book. They listed over 115 fern species in Florida.  Here are the top 10 most common and popular Florida ferns.
Hand Fern ( Cheiroglossa palmata)
Like Staghorn ferns, Hand ferns are subtropical and tropical species that grow in the particulate that gathers in crooks of trees or at the base of other plants. While you can still find them around they have been placed on the endangered list because of overharvesting by collectors. They are typically found in the southern counties of the state.
Resurrection Fern (Polypodium polypodioides)
Resurrection ferns are not ones that folks typically have in their gardens. This is mostly due to the fact that they tend to grow on other plants. Like Hand ferns, they grow on the accumulated particulate that collects on trees but unlike other ferns, they will grow to cover the entire limb of a tree.  If you are ever in St Augustine, they are some great examples of resurrection ferns growing on the old Live Oaks in the parks around the city.  I think a lot of people wouldn't want to plant have them growing on their oak tree in the backyard because if it isn't covering the hole branch it does look a little like some kind of parasite but the effect when you come across a huge oak in the middle of the woods that has Resurrection Ferns growing across all its limbs is breathtaking. The plant gets its name because it can recover from a dried shriveled state to a healthy plant after a strong rain.  These Florida ferns can be found all across the state.
Wild Bird's Nest Fern (Asplenium serratum)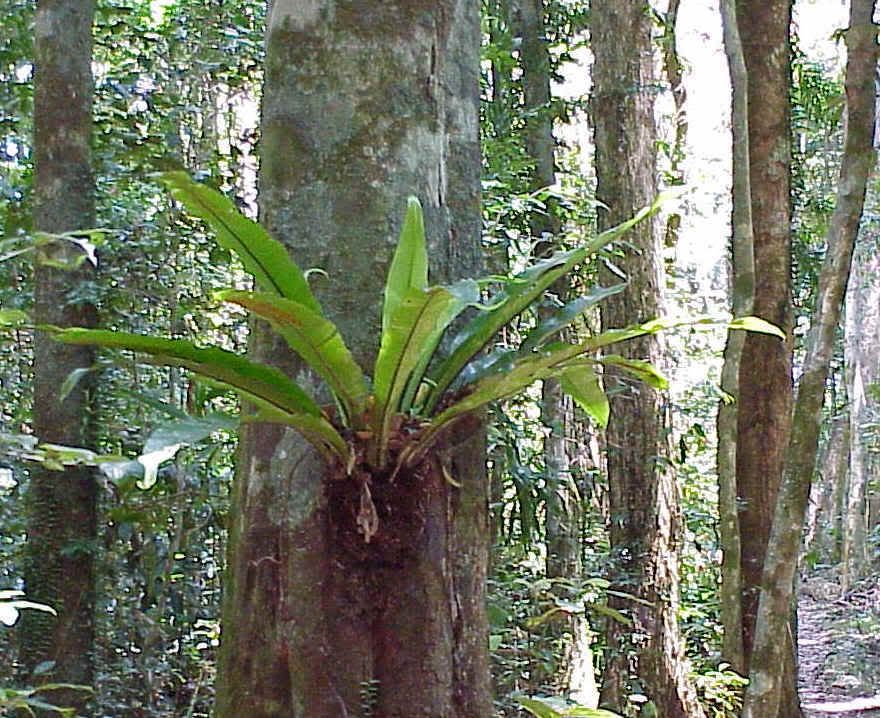 Florida is full of swamps. People thought Flagler was a nut when he started to build his rail line down the Atlantic Coast in an effort to get people to move to Florida. Who would want to live in that swamp? Apparently a lot of people and when they came they drained many of those swamps. However, there are still a lot of beautiful marshes and swamps left. Bird's Nest ferns thrive in the high humidity and constant moisture of those swamps. Unfortunately, due to the reduction in their natural habitats they are now on the endangered species list. Can grow on its own or on the side of a tree.
Australian Tree Fern (Ctenitis sloanei)
The Australian tree fern is the only tree fern native to North America. These suckers can grow up to 15 feet tall and 8 feet frond end to frond end. They can be a good substitute for a small palm tree.  These ferns thrive in South Florida.
Asparagus fern (Asparagus densiflorus 'Sprengeri')
I let this one slip in because it is native to Florida and looks cool but technically Asparagus Ferns are not really ferns they are lilies.  But can you look at that plant and think Lily? I am guessing not. That thing looks like a fern. You can tell they are not ferns when they sprout flowers in the spring. Asparagus ferns grow all over Florida.
Fishtail fern (Nephrolepis falcata)
They call Nephrolepis Falcata fishtail ferns because their fronds supposedly look like fish tails.  I guess so but barely. Fish tails do well inside or out and are relatively easy to grow. These guys grow from Jacksonville to the Keys.
Wart fern (Microsorum scolopendrium)
Despite the name, Wart Ferns can be beautiful plants.  They are more of an outside fern than an indoor one.  They really do well at the base of a tree or planter bed. Like fishtail ferns, Wart ferns develop that nice shine that is different than your Boston fern or other narrow leafed plants.
Holly fern (Cyrtomium falcatum 'Rochfordianum')
Holly fern are good for those partially sunny spots around the yard that won't support full bushes.  They develop into bushy mounds about 3 feet wide and serve as some good ground cover or accent pieces for your back porch area. They can handle being under the shade of a cover as long as they still get some sun and rain.  They also serve as a good plant for underneath another tree like an oak or palm tree. The nice thing is that they keep their full green cover year round so when your other plants are starting to get those winter blues they keep some nice color. These guys are so popular in Florida that the  Florida Nursery Growers and Landscape Association (FNGLA) chose it as one of their Plants of the Year in 2007.  Holly ferns can be found across the state.
Sword fern (Nephrolepis exaltata)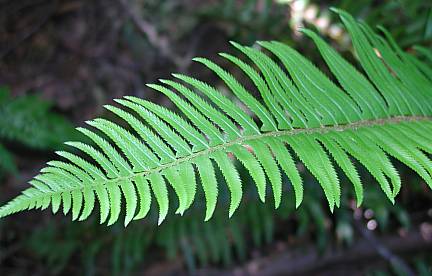 Also known as the "Wild Boston Fern". Boston ferns are amongst the most popular plants out there.  So popular that people eat the damn things. I can't figure out what the nutritional value you get from one is but apparently they taste good sautéed. But as you can see from this video those folks eating them are a little odd. Sword ferns can grow fronds up to 3 feet long. Although in no way are they confined to Florida they are most prevalent in the marshy areas from around Ocala and parts south.
Macho fern (Nephrolepis biserrata)
Four feet long. Supper bushy. They make a great gift.
Giant Leather Fern (Acrostichum danaeifolium)
Giant leather ferns live up to their name.  They grow significantly taller (about 12 feet) than other ferns that are not a tree fern. That covers the giant portion of the name. As for the leather, their spores coat the entire underside of their fronds giving them a brown leathery appearance. You can find them south of Tallahassee.
If you are interested in further reading about ferns in Florida check out these sources:
Natural Area Weeds: Distinguishing Native and Non-Native "Boston Ferns" and "Sword Ferns" (Nephrolepis 
Identification Guide to Ferns in Florida